| | |
| --- | --- |
| Article number: | SVG-Bund-M-BLK |
| Availability: | In stock |
We are currently not offering Grey bundles.
The Slate Vertical Grip is a drop in/screw-on upgrade for any grip, MLOK rail or MLOK compatible surface. Unlike other Vertical Grips, the SVG has been specifically designed to interface with MLOK, not adapted to MLOK from picitanny.  The result is a much more trim and minimalist footprint than other grips on the market, specifically at the point of attachment. Further, just as with the Slate Stop, the SVG has been created with multifaceted implementation methods in mind. 
Designed by military and competition shooters, the shapes and angles of the SVG are optimized to improve the user's ability to control recoil, gain stability while shooting on barricades or objects, better access light and laser activation buttons, and comfortably carry and move the firearm while not actively employing it.  Please note that this is not a full-length vertical grip.
Kalashnikov / AK type rifles were a consideration when designing the SVG, and the height of the SVG does not interfere with AK magazines while reloading. 
The SVG boasts high temperature resistance, full MLOK lugs, and steel hardware to ensure the utmost level of durability. The SVG interfaces directly with the SBI Slate Grips to present the best possible grip and profile for the user.
We've recently updated our color profile with the feedback of our customers.  Our FDE is now a more rich brown than previous and our ODG is a direct match for Magpul's coloration.  Sometimes photography may show it in a skewed color depending on the studio lights used.
We strongly urge customers to use our 3mm long allen wrench to access the screw head to properly fasten at torque spec. 
Magpul's Torque Specs: For attaching metal accessories to metal hand guards: 35 in/lbs. For attaching metal accessories to polymer hand guards: 15 in/lbs.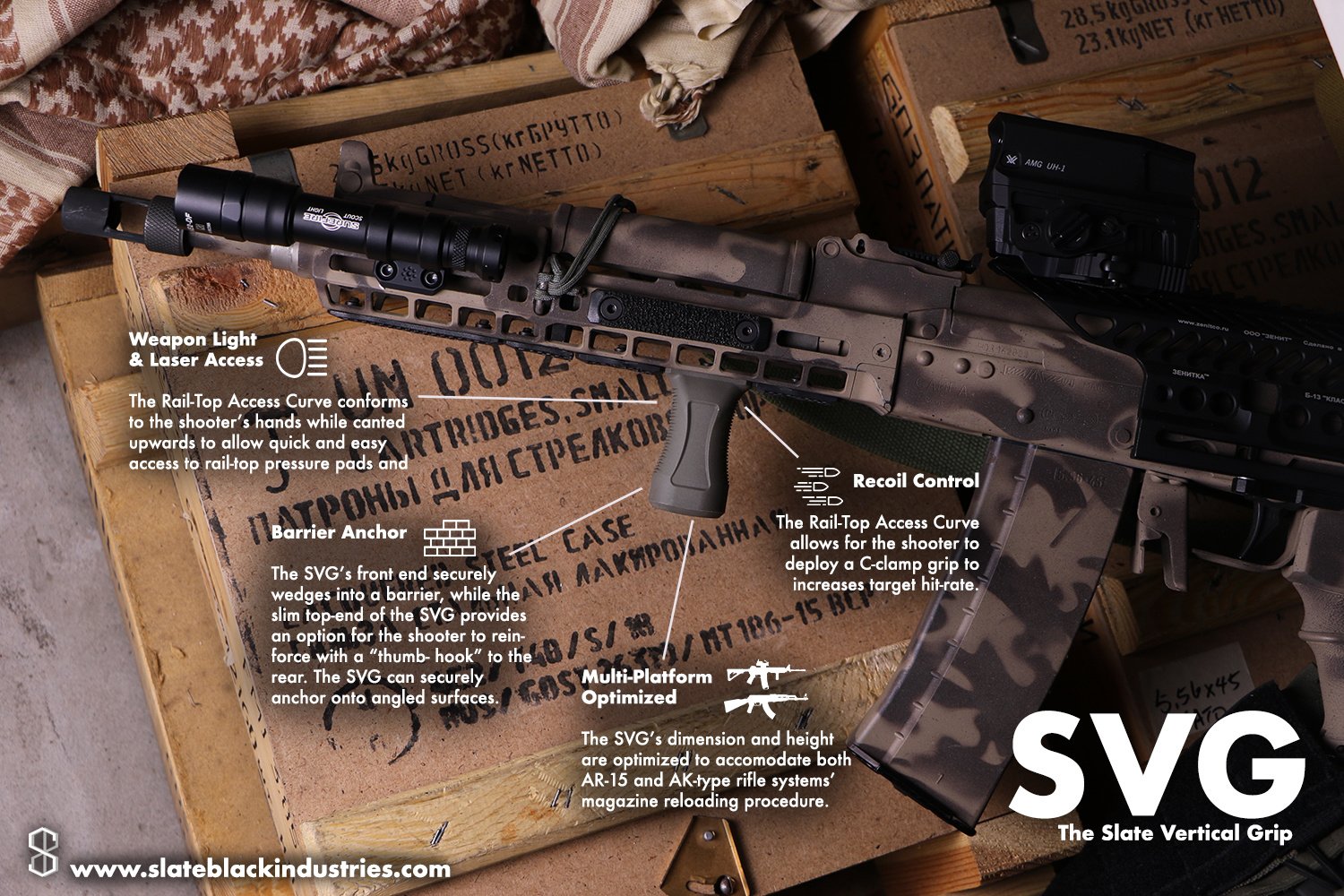 Alex
23-07-2022 23:41
Perfect replacement for magpul accessories. SBI's grip is much more stable and sleeker than any of the competition. The quality alone is incredible and gives my AR a bit of color and protection! I recommend this to anyone wanting something comfortable to grip while getting panels to protect the rail system
Brent
21-07-2021 17:51
Bought this for a .300 AAC build and it was exactly the grip I needed. Materials are great and I really like the low profile of the stop.
5
stars based on
2
reviews