| | |
| --- | --- |
| Article number: | SS-Bund-M-BLK |
| Availability: | In stock |
We are currently not offering Grey bundles.
Our grip bundle pack combines the optimum number of 3-slot and 2-slot Slate Grips to compliment our Slate Stop for a 3-2-3 MLOK layout. Maximize your grip and heat resistance with this bundle, comprised of the same material and product you're accustom to, simply in a plug-and-play package.
Our polymers are optimized for the Oregon Trail Defense StippleTec's X-tip and Wagon Wheel tip, but we highly recommend BLACK polymers for stippling only due to polymer dye discoloration. 
Package Contains:
2x 3-Slot Slate Grip
1x 2-Slot Slate Grip
1x 1-Slot Slate Stop
We've recently updated our color profile with the feedback of our customers.  Our FDE is now a more rich brown than previous and our ODG is a direct match for Magpul's coloration.  Sometimes photography may show it in a skewed color depending on the studio lights used.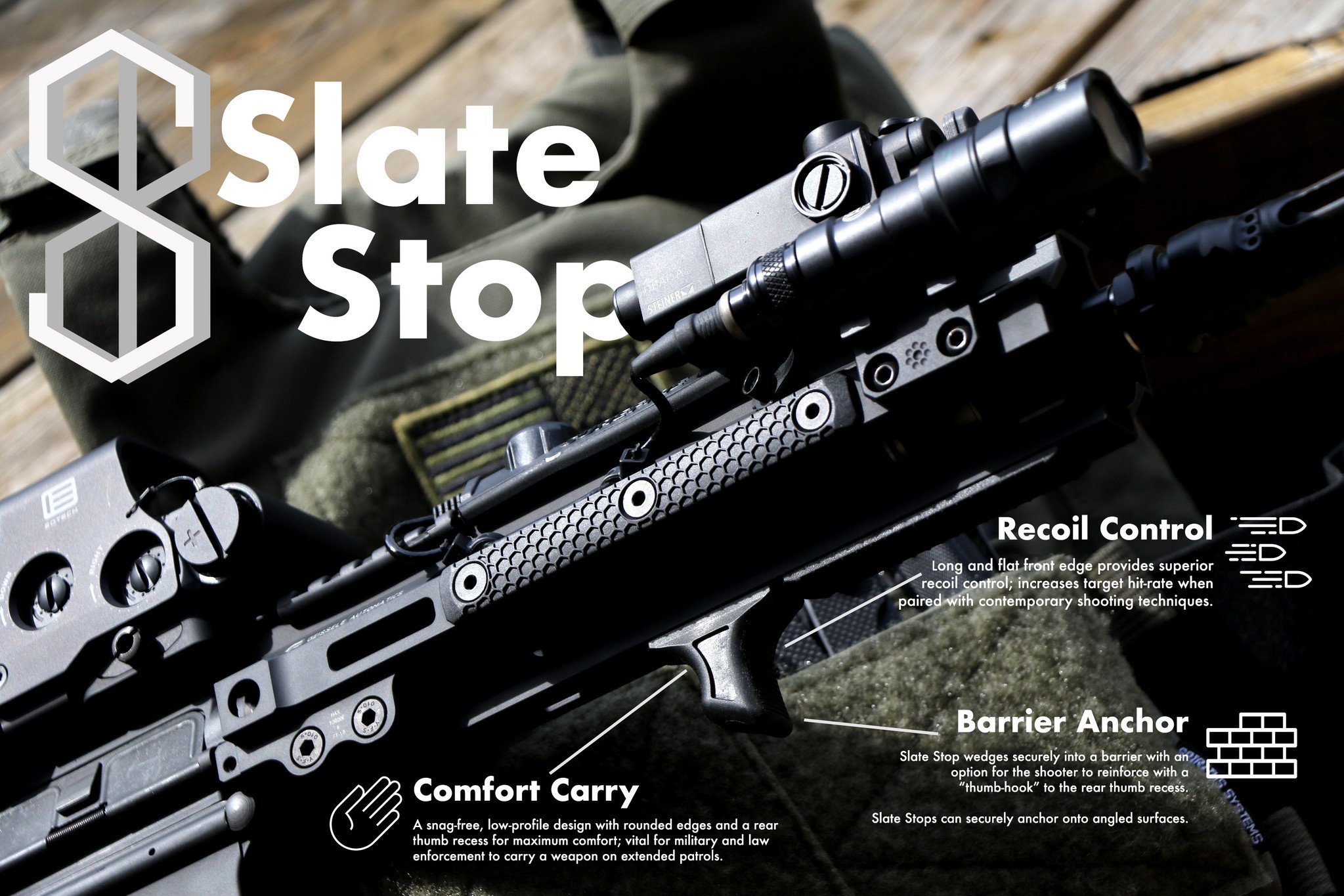 Thomas Ryan
26-01-2023 21:48
The grip panels and slate stop are top notch. They look great, feel great, and give excellent control over the front of the rifle. I do have one complaint and that is that the M-Lok screws are too long. I am running this on an FM-15 with the thin handguard and the screws are so long they press against the gas block when installed. They also prevent removing the handguard over the muzzle device because they stick out about twice as far as they need to. Nothing a Dremel tool won't solve but that would be the only improvement I can think of for an otherwise great product.
Bingo_Fuel
08-12-2020 11:31
Fantastic kit! Well made, well thought out, not only aesthetically pleasing, but highly functional, the panels fit well, fill the voids in the rail, and the Slate Stop is the perfect size, especially given that I have larger than average hands. I am just about to order more!
Chris
10-09-2020 04:04
I've been running these hard on my MPX Lancer handguard for about 5 months now.

I love that the mounting hardware isn't tiny little screws that will strip out. Everything screams quality!



I recommend running 2 stops with one slot in between.

You can hook your index over the front stop to pull, and push as a barricade stop without putting half your handguard through.
Doug
24-12-2019 06:32
Great product. My brother and I have used these successfully in two run and gun competitions after seeing it at the Lone Star Armory range day. It was what we were looking for in a hand stop and the grip panels are a bonus. All at a great price and from a TEXAS company. Loctite is needed.
4.75
stars based on
4
reviews