| | |
| --- | --- |
| Article number: | SVG-M-BLK |
| Availability: | In stock |
The Slate Vertical Grip is a drop in/screw-on upgrade for any grip, MLOK rail or MLOK compatible surface. Unlike other Vertical Grips, the SVG has been specifically designed to interface with MLOK, not adapted to MLOK from picitanny.  The result is a much more trim and minimalist footprint than other grips on the market, specifically at the point of attachment. Further, just as with the Slate Stop, the SVG has been created with multifaceted implementation methods in mind. 
Designed by military and competition shooters, the shapes and angles of the SVG are optimized to improve the user's ability to control recoil, gain stability while shooting on barricades or objects, better access light and laser activation buttons, and comfortably carry and move the firearm while not actively employing it.  Please note that this is not a full-length vertical grip.
Kalashnikov / AK type rifles were a consideration when designing the SVG, and the height of the SVG does not interfere with AK magazines while reloading. 
The SVG boasts high temperature resistance, full MLOK lugs, and steel hardware to ensure the utmost level of durability. The SVG interfaces directly with the SBI Slate Grips to present the best possible grip and profile for the user.
We've recently updated our color profile with the feedback of our customers.  Our FDE is now a more rich brown than previous and our ODG is a direct match for Magpul's coloration.  Sometimes photography may show it in a skewed color depending on the studio lights used.
We strongly urge customers to use our 3mm long allen wrench to access the screw head to properly fasten at torque spec.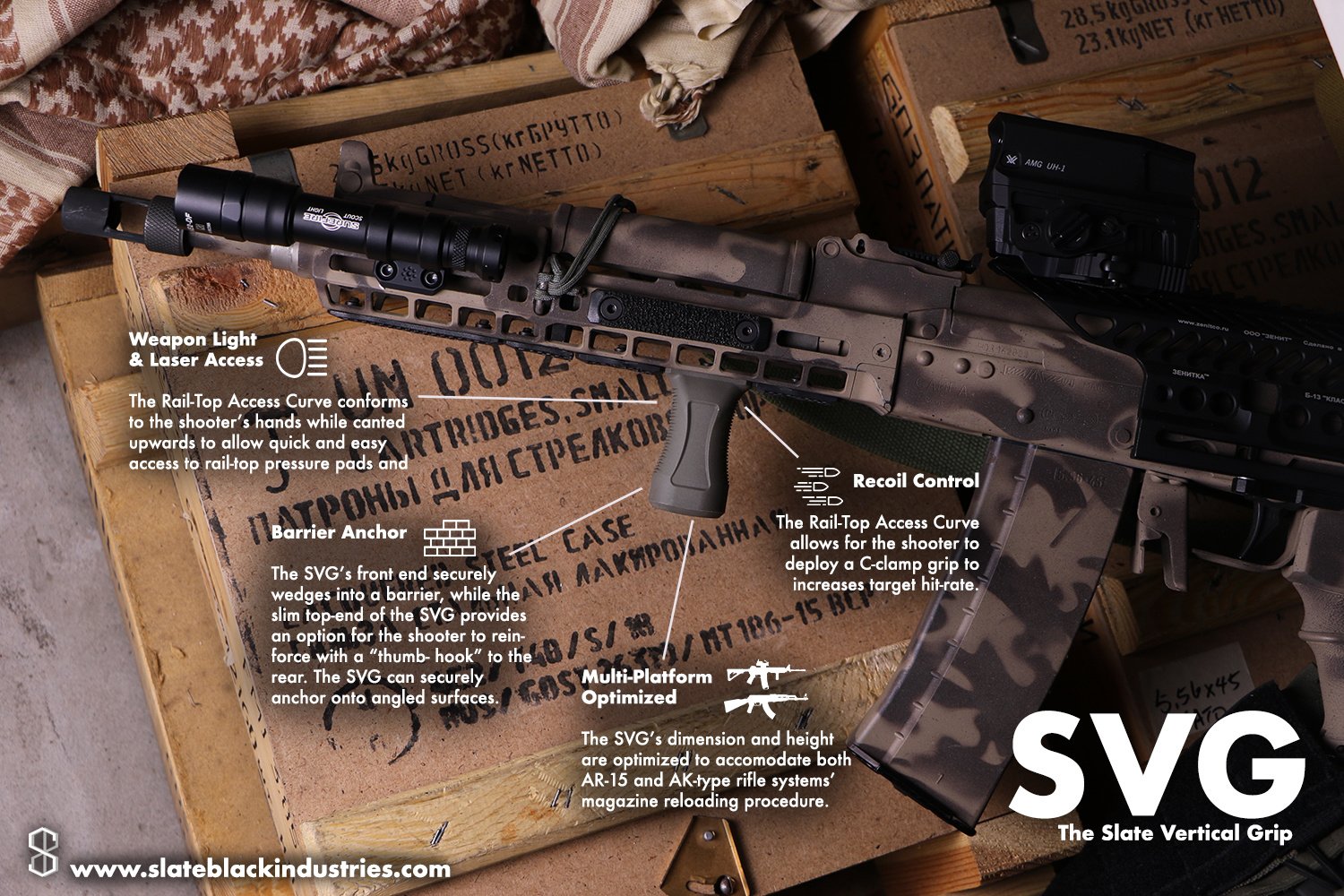 Dustin
18-11-2023 11:36
Works excellent no matter how you grip it. A VAST improvement over the BCM grip I was using. I'll pick up a few more in the future to replace the rest of my BCM grips! As the description says, designed for M-Lok, way less bulky than grips originally designed for picatinny.
Jackson
20-10-2022 17:27
Not too big and not too small, fits my hand like a glove. Very comfortable in the hand.
jess ganuelas
08-02-2022 17:06
Lightweight, durable, and pretty slick looking IMO. Perfect for HK's MP5 platform.
jess ganuelas
25-01-2022 21:51
I didn't even know this VG even existed until I was on the hunt for one recently to put on a H&K SP5. Let's just say I'm super glad I stumbled upon this VG from Slate Black Industries. The perfect look and feel for my intended application!
David Lawson
20-01-2021 11:40
Very happy with my purchase. Quick shipping and the grip is quite comfortable to use with no bulk.
5
stars based on
5
reviews